This article takes you through the process for acquiring an Asset Package from Marketplace. if you haven't already made a made a YoYo Games Marketplace account you should do so now. This can be done from within GameMaker by clicking the "Marketplace" menu and selecting the "Login" option. The log in window will have a link that you can click to create a new account. you can also do this from a browser by going to the YoYo Games Marketplace.
Once you have created your account and logged into Marketplace, you can then browse the available asset packages available. You can download official YoYo Games content, or content created by other community members, and the content can be either paid or free.
Buying A Package
If you are buying an asset package for GameMaker you simply have to select it from the market listings and click the "Buy for..." button. This will add the product to your cart, and you can either proceed to the checkout or continue to browse the assets and add further purchases.
When you are ready to proceed with the payment, you can select the "Cart" option from the top right of the screen and you'll be taken to an overview of the products in your cart. Here you can pay through a credit card purchase or though PayPal, or modify the purchases you are making: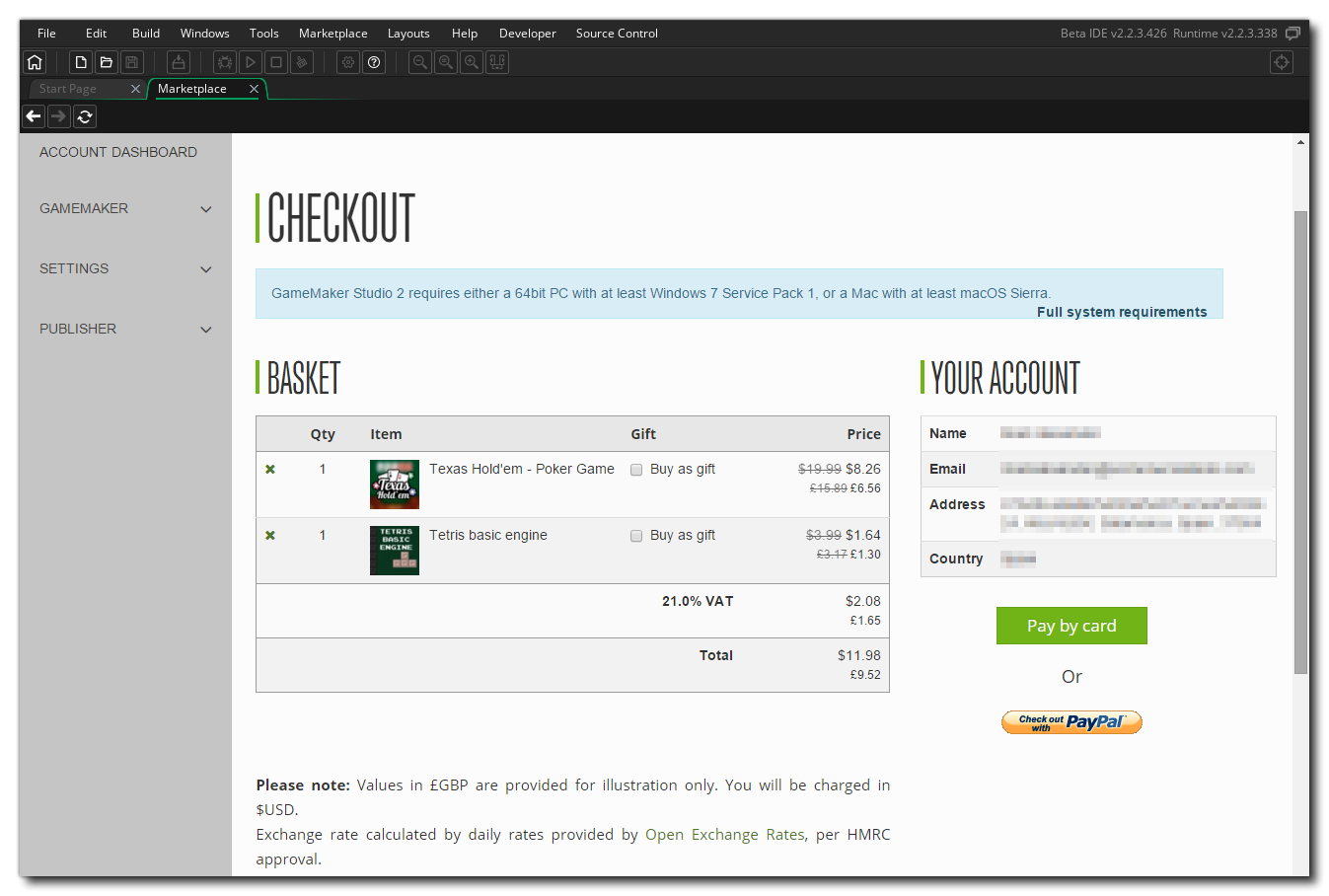 When you have completed the payment, you will be shown a "Purchase Complete" screen where you can print out the receipt. You will also be sent an email with the payment confirmation details. Once you have completed a purchase (either of a free asset or a paid one), you can go back to the GameMaker Marketplace window and click on the "My Library" menu item (which can be found from the "Marketplace" menu) where you can download and install the assets you've purchased.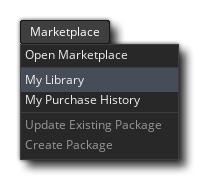 GameMaker Library
All of the asset packages that you buy are listed in the "My Library" workspace within GameMaker: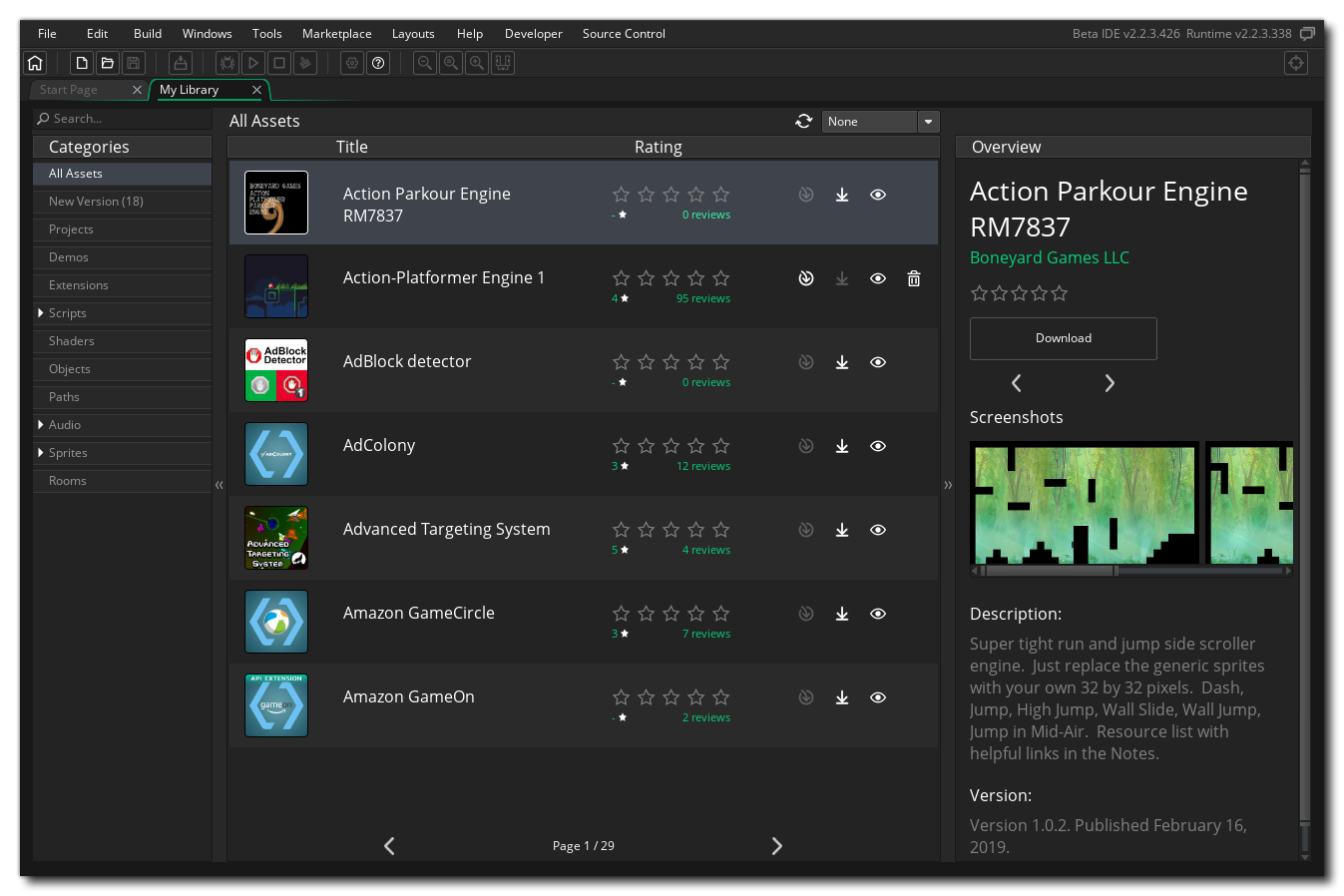 From here you can download the assets to your computer by clicking the Download button:

Once an asset has been downloaded, you can then import it into GameMaker:

When importing, you will be shown the following window: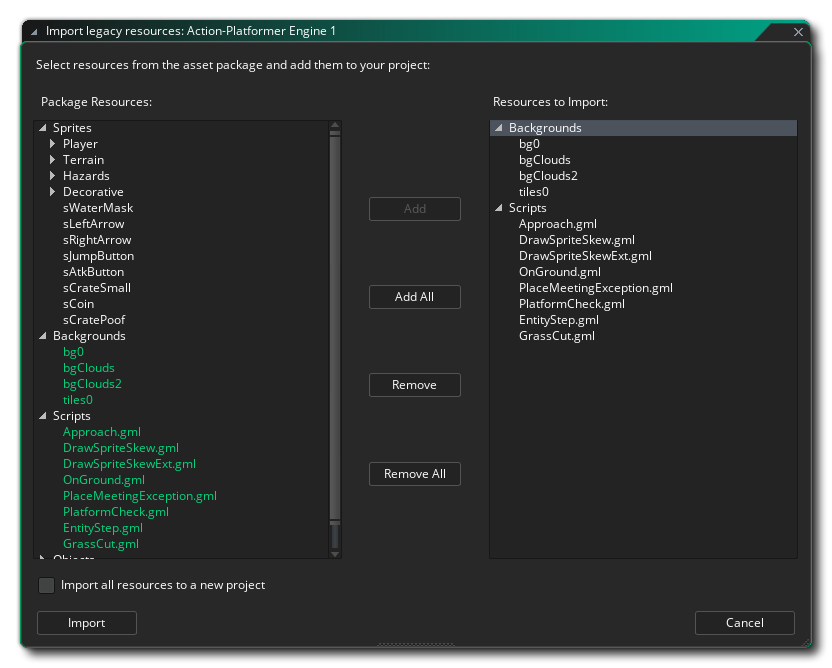 Here you can select what to import from the asset as well as set whther to import the asset into the currently open project or import it into a new project. Once an asset has been imported, all the resources will have their own folder in the resource tree to make locating them easier.
NOTE: Packages are downloaded to the local app data folder for Game Maker - %localappdata%\GameMakerStudio2\lib
With the assets added to your resource tree, you can now go ahead and use them in your game as you would those assets that you have created yourself. You should note, that assets downloaded form Marketplace are for individual use and cannot be shared to 3rd parties.