If you have Steam on your PC you can get your copy of GameMaker by purchasing it on their store. However, if you have already bought GameMaker directly from GameMaker.io or elsewhere and want to link your account so you can use the Steam version without purchasing again (or you bought on Steam and now want to use the non-Steam version), then you can do that also.
This page will guide you through both options and also shows how to manage your GameMaker installation within Steam.
Purchasing GameMaker On Steam
As with any product from Steam, it's simply a case of going to the Store, searching for GameMaker and then selecting the licence you want (information on the different licenses can be found here):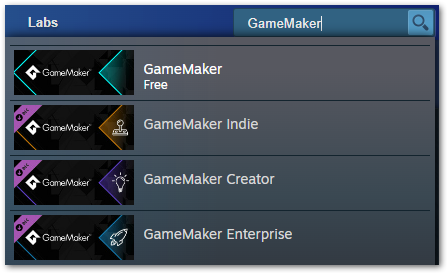 Once purchased, it will then be added to your Steam Library.
All GameMaker Subscriptions are considered as DLC for GameMaker, so your Steam Library will only show 'GameMaker' but your purchased Subscription will be accessible through this Install.

Linking Your GameMaker Account To Your Steam Account
If you have already bought GameMaker from us directly, you can link your GamMaker Account with your Steam account and then use either/or of the versions (the Steam client version, or the standalone executable). To link accounts, follow our Help Article Linking Steam Account to your GameMaker Account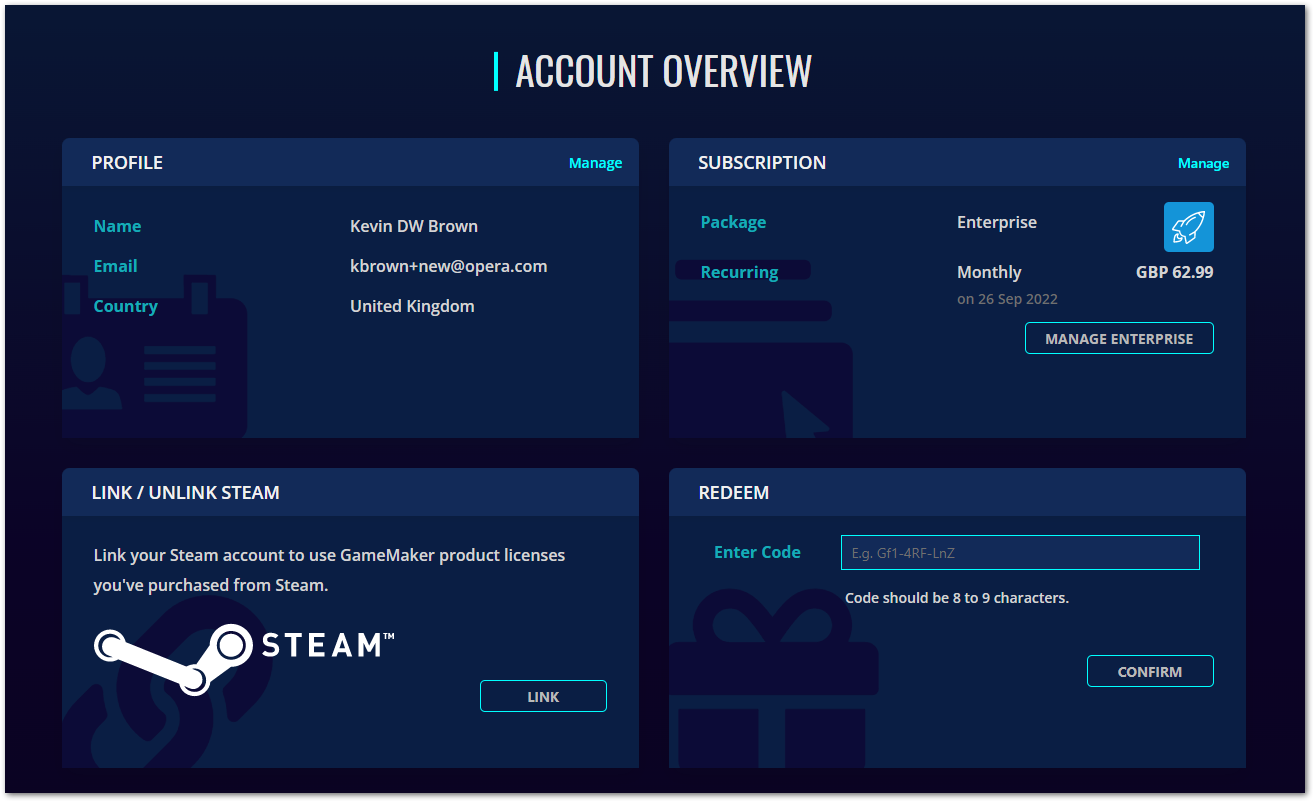 After you have followed the Help Article, you can now download GameMaker from Steam and use it from within the Steam Client.
The opposite is also true, and if you have bought a GameMaker licence on Steam, you can link the accounts and get the same licence applied to the stand alone executable of the product.
Installing GameMaker From Inside Steam
Once you have followed either of the options above, you will find your relevant copy of GameMaker is available to download and install within your Steam client.
Note that you need to be on the Library screen and you also need to filter for Software in order to find GameMaker in your list: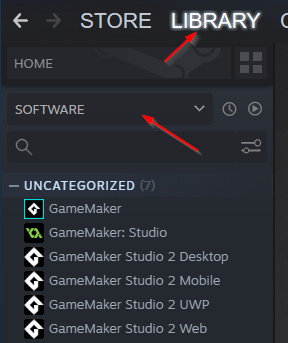 You will likely only see the top one ("GameMaker"), but those who bought GameMaker in the past may also see one or more of the other legacy products shown above.
Click on the entry in this list, which will open its store page and there you will find the button for Steam to download and install GameMaker. Once installed, the button changes from "Install" to "Launch" and can be used to actually start GameMaker each time.
On launch you will be prompted to sign in, which will require you to provide the username and password details for your YoYo Account.
IMPORTANT! When using GameMaker from the Steam Client, the client must be online. GameMaker will not permit you to login while Steam is in offline mode due to the way that Steam locks down on network communication.
Steam will then automatically download and keep you on the latest monthly version of GameMaker each time a new one is released. If for some reason, you would prefer to stick on an older release, then you can do this by seeing the information below.
Managing Which Version Of GameMaker You Use (LTS and other older versions)
A number of recent releases will be available to you on Steam, but as Steam itself only allows one install of the product, these older versions are delivered as alternative "Beta" branches within the properties for GameMaker in your Steam library.
You can find this Properties window by right-clicking on GameMaker and then choosing it from the popup: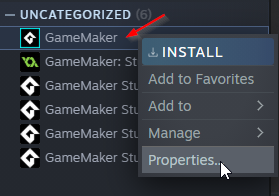 From in here you can select the Betas tab and then pick which version you want from the dropdown: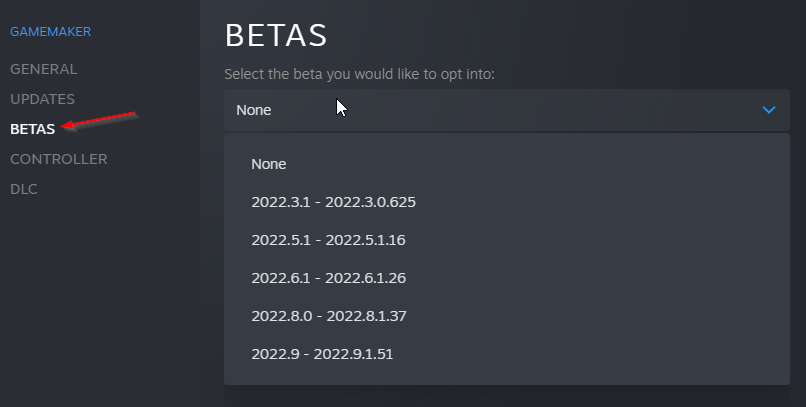 Actual GameMaker Beta releases are not available on Steam - it's just that Steam calls these alternative versions "Betas".
Once you have selected an alternative release, simply close the Properties dialog in Steam.
Steam will now download and install the different version you selected. Note that it will also append a little label onto GameMaker in your Library list, so that you know that you're not using the default release. For example:

Be aware that the legacy products will not offer the same variety of alternative installs - only the one "GameMaker" product offers the long-term support branch, for example, and the "UWP" product is no longer supported past the 2022.6 release.