This article covers how you can link your Steam Account with your GameMaker Account.
For information on creating an GameMaker Account, please read this article.
Your Steam Account can be linked from your Account Overview. Once you have logged into your account, you will see a card titled Link / Unlink Steam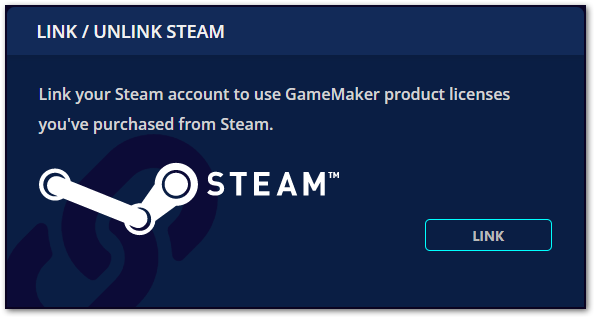 When logged in, this page is accessible from:
Pressing the Profile Icon on the right of the Top Navigation Bar
Steam
If you have purchased GameMaker from the Steam platform, you can attach your Steam account to the GameMaker Account system. This is done from the Link / Unlink Steam card, by clicking the Link button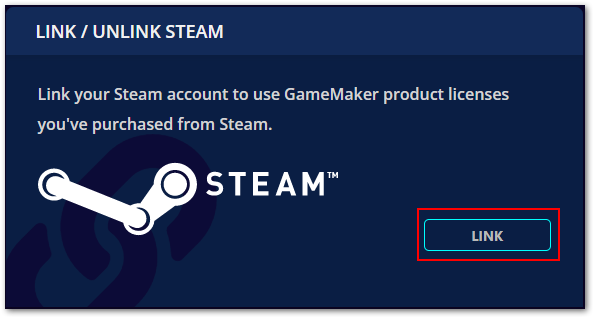 Clicking this link will open a new window where you will be requested to sign into Steam and confirm that the account is to be linked to YoYo Games. Once you have confirmed that it can be linked, you should see the following message confirming that your Steam account is now linked:

Please note your Steam profile has to be public in order for the Steam Account to be found. (Remember to disable any web extensions that block certain pages.)

Now that you have linked your Steam Account to your GameMaker Account, you will be able to download your stand-alone copy of GameMaker from your Downloads page, in order to access the GameMaker products you have purchased on Steam through the standalone version of the software.
After installing and starting the program, you will be presented with a login screen, you will need to enter your GameMaker Account information and press the Log In button.