Before You Create a GameMaker Account
Firstly, thank you for your interest in using GameMaker for Educational use. If you wish to access GameMaker for Education use, you will first need to create a GameMaker Account.
For the educational use of GameMaker, a staff educational email address is required for the creation of a GameMaker Account (usually something that uses the domain of your school and not a generic @gmail.com/@hotmail.com etc. email address). This is so we can verify that the educational version of GameMaker will be used for educational purposes.
IMPORTANT! If you already have a personal GameMaker Account then you will need to make another account specifically for the Education Licence, as you cannot mix Education accounts and Private accounts.
The email that you use for the GameMaker Account will be the one that gets linked to the Education licence, so make sure that you sign up for the account with the correct email for your institution. To futureproof your Education account i.e. if a teacher retires or moves to another school, we recommend using a shared email address like gamemaker@ourschool.com or licensing@ourschool.com rather than a specific teacher's email address. This will make it easier for any new teachers to have access to the account.
If you already have a GameMaker Account with a GameMaker Studio 1.4 Education Licence assigned to it, then this account can be used instead of creating a new one.
Creating a GameMaker Account
A GameMaker Account is required in order to purchase or use any of the GameMaker licensing options. Once you have made your account, you can use it to purchase GameMaker (Education) Licences or assign current licences to be used in your classroom.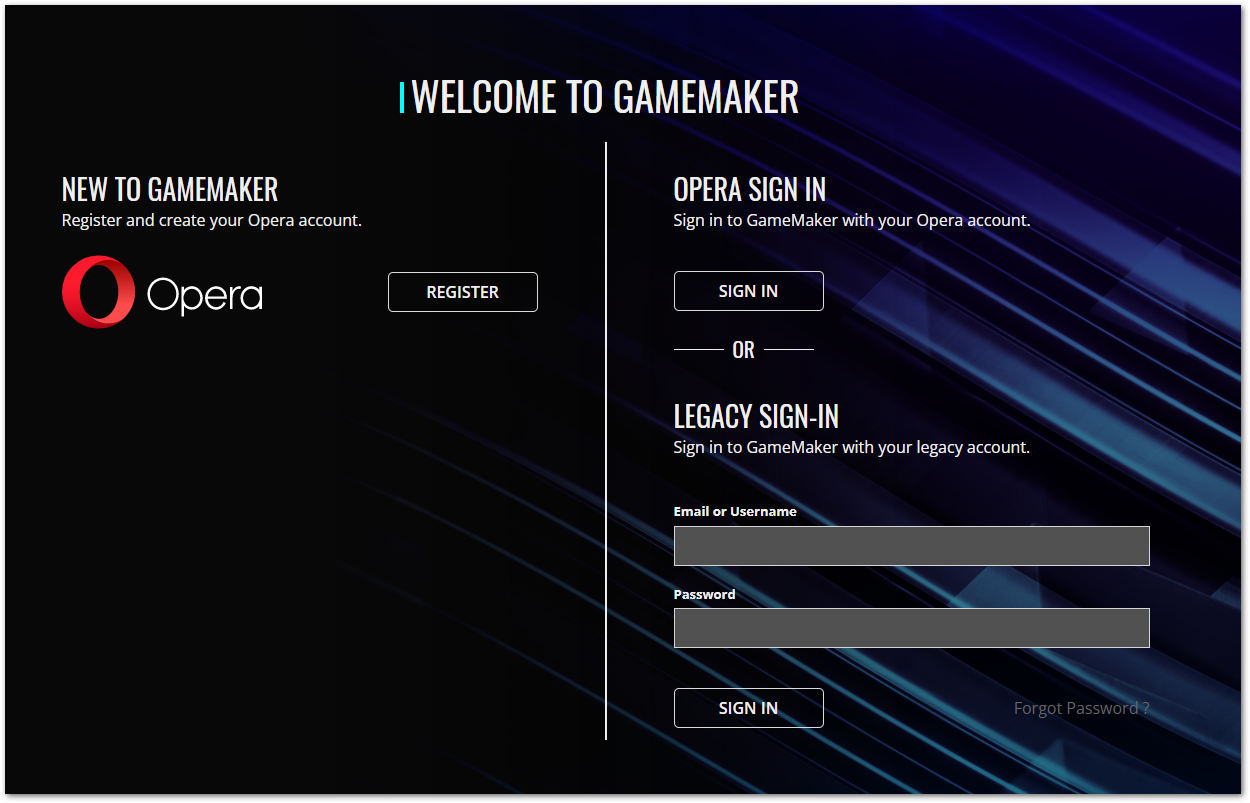 Here you will be prompted to either Register for a new account or Sign In to an existing account. Your existing account will require you to Sign In with a Username and Password or an Opera Account, depending on when your Account was created; Opera Account sign in is the newer method.
To start the registration process click the Register button, on the left of this page.
This will take you to the Opera Sign In page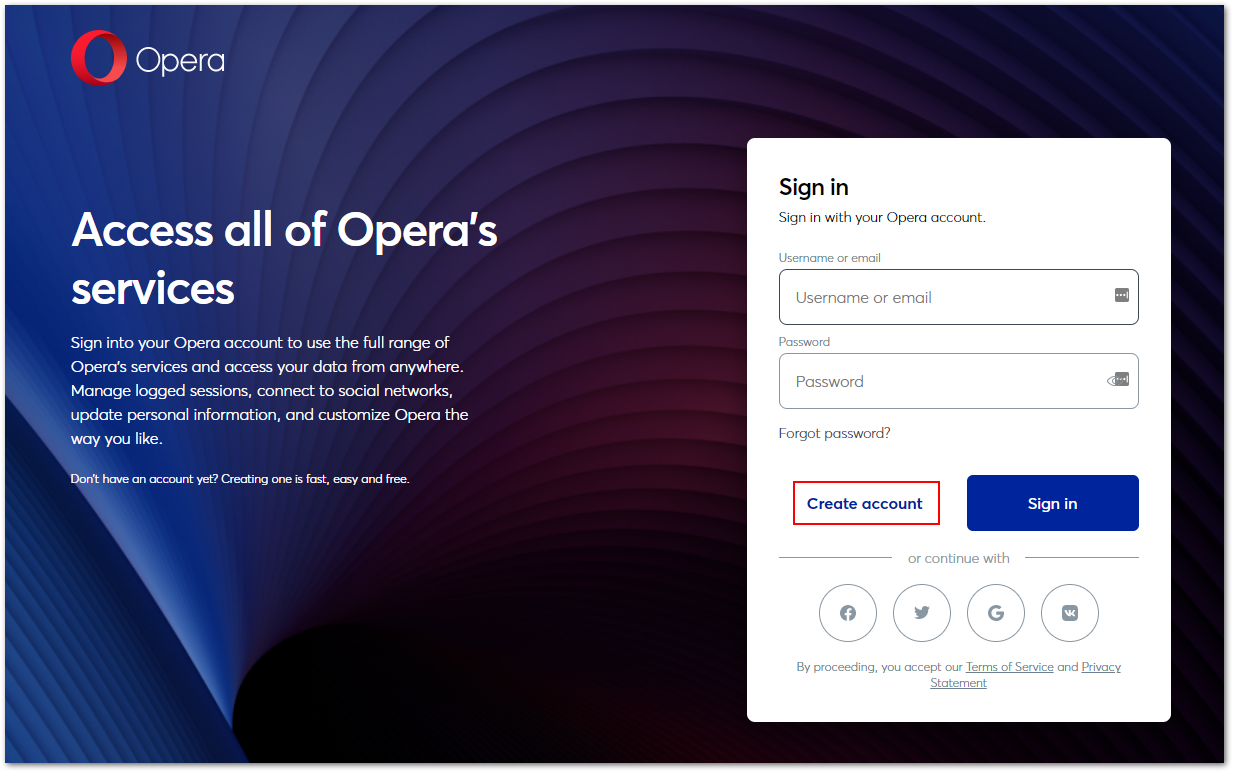 From here, you will click on 'Create Account' to create your Opera account (unless you already have an Opera Account that you wish to use)
You will then be asked to enter an email address to be associated with your Opera Account and set a password. Please note: your password must be between 8 and 255 characters.
You are creating an account that will be used for Education Licence Management, and your students will not need to create their own accounts as they will use 'seat' logins that will be created later. We'll cover this in the Creating and Managing Seats guide.
Before you can apply for your Education account, you need to complete all of the steps to create a standard GameMaker Account.
Education specific steps can be found below, following the standard GameMaker Account creation process.
Clicking the Create Account button on this screen will then return you to our Website and you will be sent an activation email (from Opera) to the email address you have signed up for the Account with.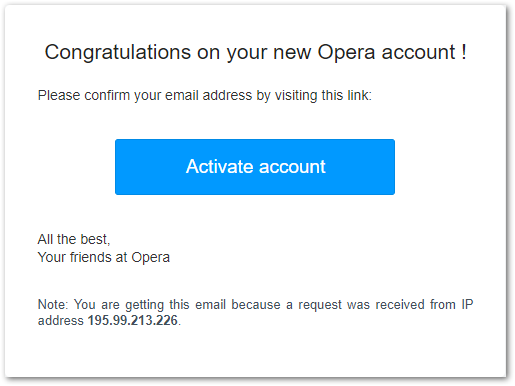 Please read through the email and follow the instructions where you will be asked to click (or copy and paste into your address bar) the activation link associated with your account.
Activating your GameMaker Account
After clicking the activation link in your activation email you will be taken to a page confirming that you have successfully verified your email address.
At this point, you will have a standard GameMaker Account and there are additional steps that you will need to follow, in order to apply for your Education Account
Applying for an Education Account
Now that you have your GameMaker Account please submit an application to have your account converted to an Education account by contacting us through the following link:
https://contact.gamemaker.io/contact-us#education
When your details have been received, we will be in touch with you to finalise the verification process (which may require further information from you or the institution you represent).
When we receive that request, and have verified the software will be used for educational purposes we then convert your GameMaker Account to an Education account, activating the educational pricing and granting you a free GameMaker Education licence. Pricing information can be found on our Education Page.
There are Learning Resources that may assist you in learning how to use GameMaker.
Accessing your Education Account
Once we have confirmed that you are an education institution and we have converted your account, you will be able to sign into your account (https://education.gamemaker.io/login)
If this is the first time you are signing into your account, you will be shown a screen confirming your account creation and inviting you to Download the software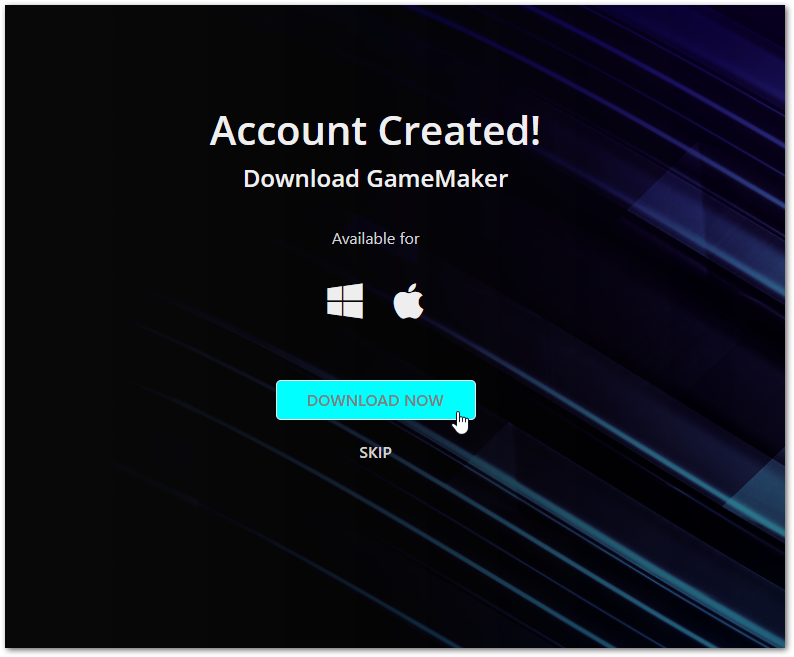 After this screen, you will be asked your skill level, which help us to determine the most appropriate type of supportive content to send you via email, to help you get started.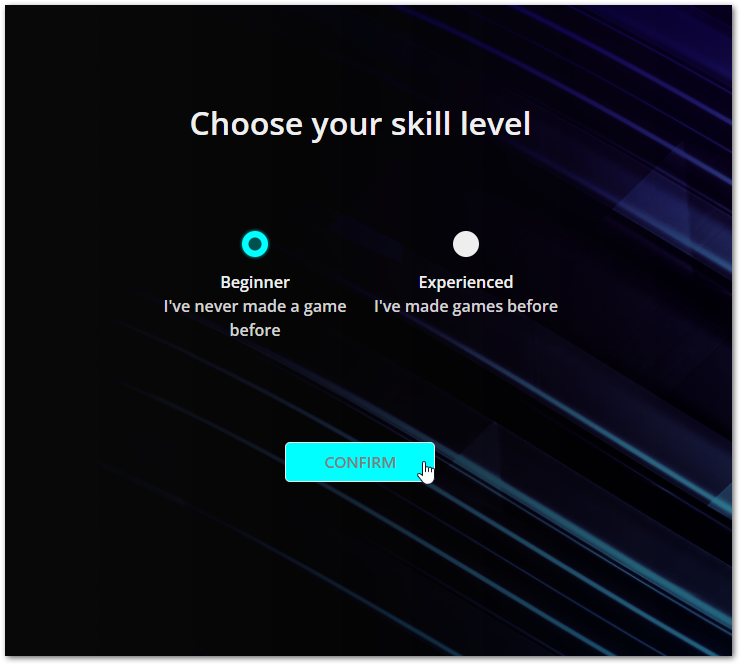 Two-factor Authentication
While not mandatory, we recommend using 2-step authentication for your Account.
To set these methods up, please go to Edit Profile on your Opera Account and select Two-factor authentication -> Activate.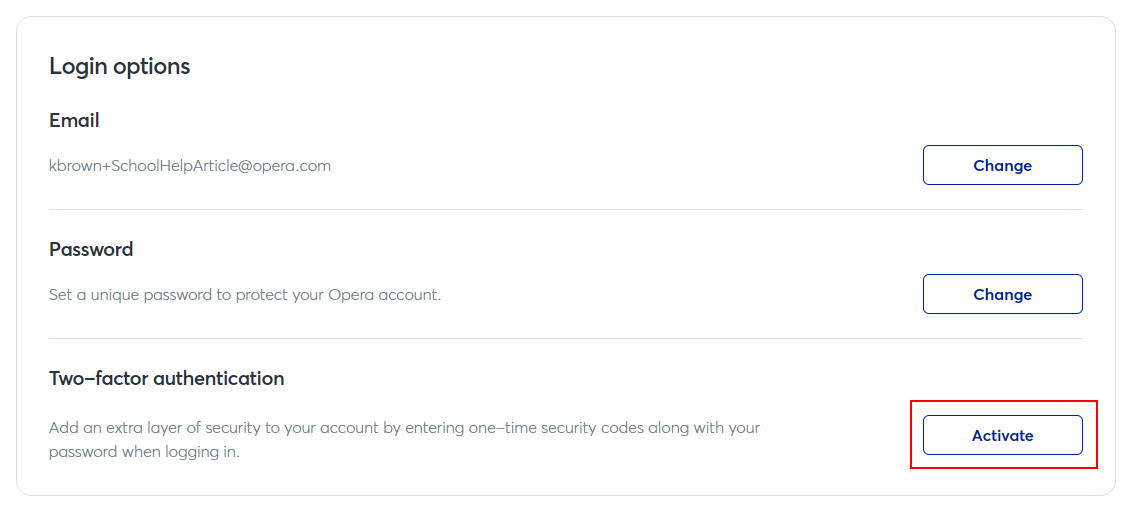 This will guide you step-by-step through the process of adding an additional layer of security to your account.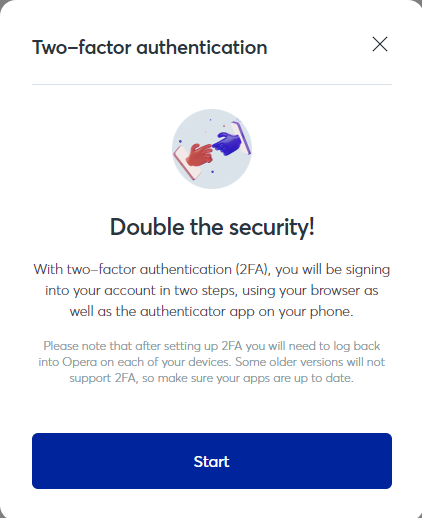 Once this is enabled, whenever you are logging into your account the website, you will be prompted to enter the 6 digit code that will be shown in your Authenticator App
Next Steps: