Note: The Beta versions require a paid licence or subscription in order to log in
GameMaker has a separate "Beta" installer for people who want bug fixes or new features sooner and in exchange are willing to risk encountering bugs or issues associated with a version which has not completed testing.
The Beta version is a separate installation of the IDE on your PC/Mac and so does not require you to modify your current known-good GameMaker setup, which means you can have the current stable installed and the Beta for the next major release.
However, Betas may contain bugs which could corrupt your projects and may also introduce legitimate project format changes which stop you opening the project again in other versions. Accordingly, we would therefore strongly suggest that you backup all projects before trying them on a beta.
We also ask if you use the Beta that you do report issues as soon as you see them, so that by the time the "Stable" release is made these issues have hopefully all been fixed.
Downloading The Beta Installer for Windows and Mac
You can find the installer on the GameMaker downloads page, which is here:
https://gamemaker.io/en/download
We release a series of betas in the lead-up to each major release and your Beta install will notify each time a new update is available, so you typically only need to get the installer from here once.
Steam users: The Beta install is not available on Steam. However, your purchase is still valid for the non-Steam version as well. If you haven't done so already, follow Using Your YoYo Account With Steam and then you can carry on with installing the Beta.
Release Notes: The links in the Help menu inside GMS2 will show you the Beta pages, but also they are here:
Downloading The Beta Installer for Ubuntu
This one is not available from your accounts panel, as it's only a very early beta version which is available at this time.
It is essential that you read the Required SDKs link below for more info about using this IDE.
To get the installer, please click the "Ubuntu" link next to the version number heading in the IDE release notes:
To run the GameMaker installer you might need to change your system association for the file/specifically ask Ubuntu to it open using the installation manager tool, as by default your system may try to open the installer in the archive tool (as if it was a .zip file).
Review Your SDKs For The New Install
As you have just changed to a different version of GameMaker, it's now essential that you review your external tools are suitable for use in that version otherwise you may have issues building your projects.
See our Required SDKs FAQ and the setup guides it links to for all target platforms relevant to you.
Please don't use newer versions than what we say on that FAQ, as it might cause your builds to fail.
Current Beta Release Thread
To see the initial known issues and for giving feedback or asking questions about the new Beta version, please see the following thread on the GameMaker Community:
https://forum.gamemaker.io/index.php?threads/2023-800-betas-release-thread.104482/
Submitting Bug Reports
Assuming your issue is not already mentioned in the release thread above, the process for filing bug reports is no different to the regular release: please use the contact form linked-to inside GameMaker, as shown below.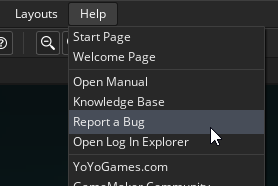 Make sure you check the known issues table and the list of FAQs on the contact form before clicking that you still need to submit your bug report - you may not need to send us a report!
Also ensure that you pick the correct version number and include any logs or sample projects as requested - please assume that we will request your logs and a small sample project which just shows the issue and do include these when filing the issue, as we will want to get your issue fixed asap.
Please also be aware we need a .yyz export of your sample project, not simply the .yyp "project structure" file on its own. Use File > Export (Windows) or GameMaker > Export (Mac) to generate a .yyz before making your ticket.
In releases starting from June 2023 you can use Help > Create Your Bug Report Package to automate everything contained in the two paragraphs above and generate a single .zip file with everything we will need.
Managing Account Sessions
Be aware that 2022 versions of GameMaker count all instances of GameMaker on one physical machine as sharing the same session, so using a Beta at the same time as a regular install will only count as one session on your account panel.
However, older Betas and older Stable releases do not have this change, and so you may find yourself using 2 sessions - please do bear this in mind if for some reason you are required to use an old Stable release.