If you are getting a size limit error when uploading to GX.games (or some other distributor), or your game takes a long time to download, follow the steps below to reduce your game's size.
Audio

The "Uncompress on Load" option should work best for sound effects, and either one of the "Compressed" options for music tracks.
Read the Attributes section of this page for more information.
With GameMaker 2022.5+, use the Inspector to change the attributes of multiple sound assets at once, by selecting them in the Asset Browser and modifying the attributes in the Inspector window: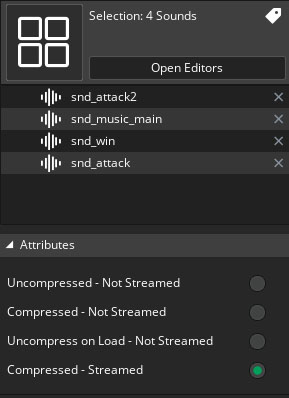 Graphics
Use the default BZ2 + QOI option for your Texture Groups. If you have not changed this, you don't need to do anything.