If you convert your "legacy" GameMaker account to an Opera Account on our accounts portal and you happened to choose an Opera Account which uses a different email address to your GameMaker account, you will find in all GameMaker releases up to and including 2022.8.1 that this will "lose" all of your user settings, such as Preferences and recent projects lists.
This information has not actually been lost in any way, but instead very simply GameMaker is now looking at a different user account folder.
This guide will show you how you can very quickly migrate all your settings from the old folder to the new one and carry on with GameMaker straight away.
Where To Find Your Settings
Windows Users
All your settings live in %AppData%\GameMakerStudio2 (which typically points to C:\Users\[Your Windows username]\AppData\Roaming\GameMakerStudio2)
Open this folder in Windows Explorer.
Mac Users
All your settings live in ~/.config/GameMakerStudio2/
Note that on a Mac the .config folder is hidden by default. You need to open Finder and then press Shift + Cmd + . to toggle showing hidden files and folders first of all.
Open this folder in Finder.
How To Migrate Your Settings
If you have GameMaker open at the moment, please close it before continuing.
Once you have opened the relevant settings folder you should see two subfolders in here which have the same number at the end (for most users you will only have two folders and so this is very obvious, but school users and those who share a machine might have multiple subfolders and so might need to find the matches).
For example, here I show on Windows I have two folders with the same user ID of 50:

You will see that GameMaker names the folder as the bit of your email address before the @ symbol, followed by an underscore and then your unique account ID number. This means I can easily tell which is the old account's folder and which is the new (the timestamps on the folders may also make this obvious).
I can now click as if I wanted to rename the new account's folder, but don't actually rename it - instead, just copy the whole name: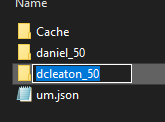 Once you have copied the name, deselect the new account's folder and then simply delete it: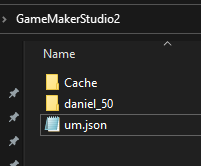 And now select and rename the old account's folder with the new account folder's name: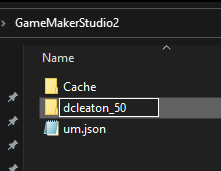 Deselect/press Enter to save the new name.
And that's it - you can now open GameMaker again and all your settings are back.